Bordeaux's annus horribilis was a woeful mixture of ill-designed social media posts, disputes with fans and erroneous ownership.
Medieval Italian scientist and philosopher Giordano Bruno once said, "If the first button of one's coat is wrongly buttoned, all the rest will be crooked." Bruno, who spent a good deal of his life in France, might have been even more confident in his words if he had watched Bordeaux's last season. Les Girondins ended the season at the bottom of the table to leave for Ligue 2 and came back from near-death as they were on the verge of being sent to the third tier.
"Bienvenue Vladimir"
Yes, the first button. On 27 July 2021, FC Girondins de Bordeaux's official Twitter account shared a 73-second video with the hashtag #BienvenueVladimir to welcome their new coach. The man to put the club back on the right track was Vladimir Petkovic, arriving after a successful spell with the Swiss national team.
But there was something wrong with the post content. 43 black-and-white seconds in the video were allocated to Petkovic's penultimate match on the Switzerland bench when they beat les Bleus after a penalty shootout in the Last 16 of Euro 2020 (played, of course, in 2021 due to coronavirus pandemic). To promote a new coach via his achievement against your national team was, to say the least, inaccurate.
For sure, social media flops are omnipresent and have nothing to do with the actual performance of a club, coach, or players. Still, it was yet another example of how successful Bordeaux was in messing up things for years.
Vladimir Petkovic, Admar Lopes and Gérard Lopez (Source- Guillaume Bonnaud)
Ownership Problems
In fact, FC Girondins de Bordeaux is not used to such turmoil. They have always been a respectable club thanks to both their consistent presence in top flight – relegated most recently 30 years ago due to financial problems – and continental football, as well as the stars they nurtured. The likes of Alain Giresse, Patrick Battiston, Marius Tresor, Jean Tigana, Zinédine Zidane, Christophe Dugarry and Yoann Gourcuff have played for Les Girondins either coming through youth ranks or domestic transfers. Even today, they can be proud of academy graduates such as Jules Koundé who plays for FC Barcelona.
Yet things began to go downhill, particularly in 2014, when the club underwent a period of turbulence that is yet to end. Inconsistent performances on the pitch and impatient decision-making off it cost them 10 coaches in seven years.
In 2018, French media group M6, long-time owners of the club, decided to part ways and a US suitor wanted to give it a try. Investment fund General American Capital Partners purchased majority stakes for €70 million after 14 months of negotiations. The extended takeover process did not serve the club well. Nevertheless, like any new owner, GACP and its president Joe DaGrosa were ambitious and wanted to see the club back in the Champions League. But it wasn't to be.
Bordeaux was not doing well. They could neither find nor stick by the right coach and were sunk in panic buying or inaccurate profiles at the transfer market. The world didn't help them either. The coronavirus pandemic hit French football hard and the broadcast deal for Ligue 1 collapsed, leading to a major decline in club revenues. Bordeaux barely avoided relegation in 2020-21 and owners were no longer interested in the project. Due to lack of financial means the club would be demoted to Ligue 2 but for takeover bids. The new savior was Gérard Lopez, a Luxembourgian-Spanish businessman already in the sports business through investments in Formula 1 and, shortly, Lille OSC, as well as a few relatively minor football clubs in Europe. Despite some controversy about his political connections, Lopez could be the one.
Annus Horribilis
Yet, under the new ownership, things went from bad to worse. The side struggled under Petkovic who was sacked in January. His replacement David Guion tried to steady the ship but the results did not improve and the team walked towards relegation.
Figures were woeful. Bordeaux did not keep a clean sheet until April; by the end of the season, they had conceded 91 goals in 38 games. Even their sponsor mocked them on social media, whereupon the club terminated the sponsorship deal.
Evidently, fans were not impressed. Some took sides with owner Lopez whereas others stuck by the players. Captains Benoît Costil and Laurent Koscielny were dismissed from the squad following a dispute with fans after the game against Montpellier.
Benoît Costil and Laurent Koscielny were in trouble with Ultramarines (Source- MAXPPP – Fabien Cottereau)
Towards the end of the season, the match against Lorient was interrupted because of toilet papers sent down on the pitch by protesting ultras. Owner Lopez, meanwhile, never refrained from criticizing players, including some dressing room rebuke. Former club legend and current assistant coach Jaroslav Plasil was seen in tears after the 4-1 defeat against Angers. In May, coach Guion summed up the season for Les Girondins: "We don't deserve to be in Ligue 1."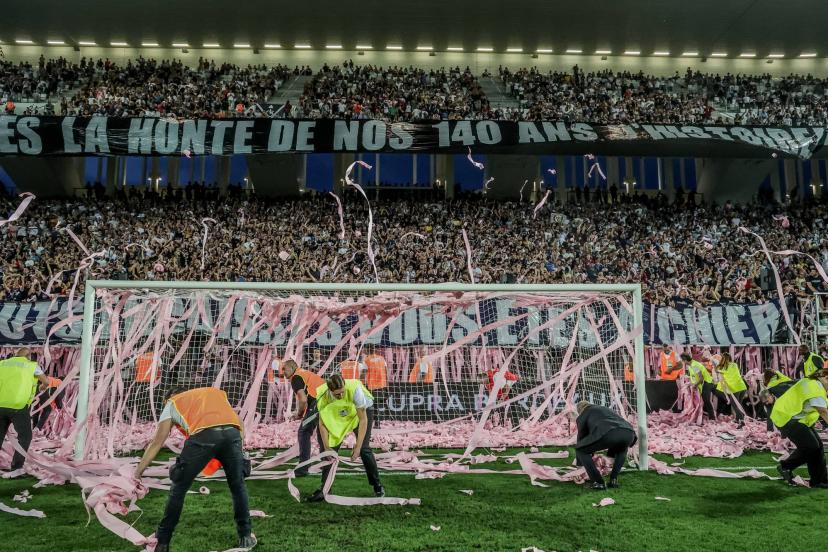 Bordeaux supporters throw toilet paper on the pitch in the game against Lorient. (Source- L'equipe)
Unexpected – Double – Relegation
To be sure, relegation is never a welcome occasion and always brings sorrow, despair, and frustration. Still, it may be even more destructive if your club is not prepared for and used to it.
Incompetent management and declining squad implicated severe consequences for quite a few years; yet, when you have a rich history adorned with titles and continental reputation, you never actually believe in such a possibility. But it happens. Once you set an environment where everyone knows he can blame someone else for failure, you can never know where the club will end up. And Bordeaux almost ended up in the third division.
After their terrible season came to a close, French football's financial regulator DNCG (Direction Nationale du Contrôle de Gestion) decided to send them down to the third tier for failing to meet financial requirements. Owner Lopez denounced the ruling and said an organization as big as Bordeaux could not survive the third tier due to its huge operational costs.
Happy to be in Ligue 2?
On 27 July 2022, exactly one year after the Twitter post that welcomed Petkovic, Bordeaux was celebrating something they never thought they would: To play in Ligue 2. Thanks to some cash injection and quick player sales, the club's appeal was accepted by the French National Olympic and Sportive Committee (CNOSF), which allowed les Girondins to compete in Ligue 2 in 2022-23 season.
They are not completely free. DNCG will keep supervising payrolls and new transfers. The club has to find some money and determination to survive. And they'd better hurry up. As of 2023-24, the number of participants in Ligue 1 and Ligue 2 will be decreased from 20 to 18; which means it may be even harder to gain promotion. Bordeaux may not breathe long under the water.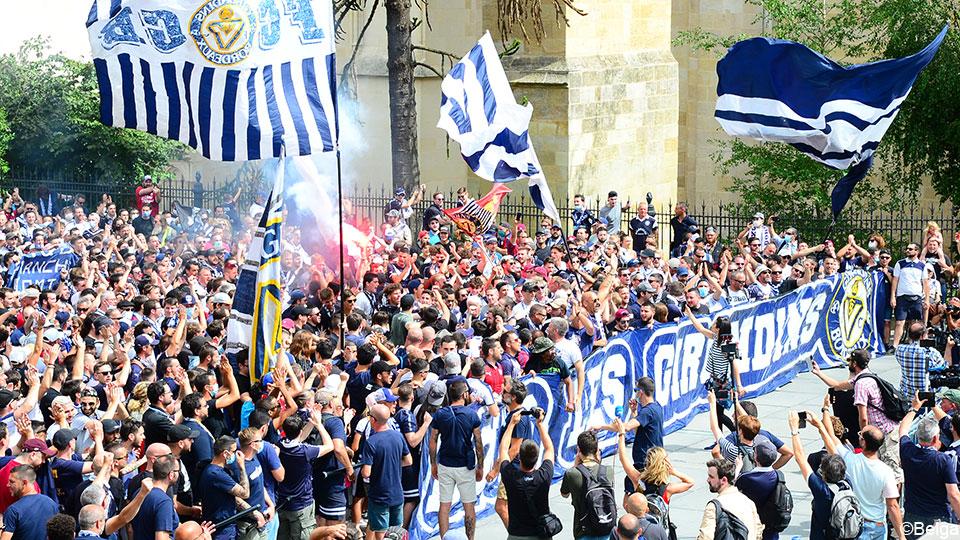 Bordeaux's annus horribilis was a woeful mixture of ill-designed social media posts, disputes with fans and erroneous ownership.The fans provided unconditional support to their teams that were in danger of double relegation (Source- APPA)
First of all, however, they have to do what all clubs do when they are broke or fail: To turn back to their roots. Fans, players, staff, and board have to act together in a reasonable way to navigate the club through these unfamiliar waters. After all, they avoided the worst. Ligue 2 may not look like the ideal place to compete for a club of their stature, but they can't afford to complain and get stuck in traumas after committing so many major errors on and off the pitch.
Giordano Bruno, who is known for his cosmological theories, was not always a pessimist: "I who am in the night will move into the day", he once said. Bordeaux must be hoping the same…
By Suat Başar Çağlan
@caglan_suat