We all know the story of 'Moneyball', where Major League Baseball's Oakland Athletics achieve massive success in the regular season with a minuscule payroll compared to free-spending rivals such as the New York Yankees thanks to General Manager Billy Beane trusting an economist from Harvard named Paul DePodesta (or Peter Brand, if you watched the movie) to incorporate highly mathematic levels of baseball analysis, also known as Sabermetrics. While baseball is a much more individualized sport compared to football, we see nearly every club in the world employing someone who is at the very least savvy with a platform like InStat or WyScout to find good performers based on the key performance indicators that can aid the club. As clubs grow more fond of using statistics and mathematical modeling to aid their recruitment process, so do the number of people interested in trying to become their club's Paul DePodesta.
In recruitment, we may find a player may be terrific in one team, but he could join a team and no longer be successful. To ignore potential factors such as climate adjustment or even missing teammates, we can also consider the fact that the player just simply does not fit the new team system. This does not mean the player is bad, he has proven himself to be good at other places, but it does simply mean that with the current system of play, he might not be the best option. With all of that being said, I often am asked about recruitment analysis or about my thoughts on a player that someone noticed because he has scored a handful of goals, so I wanted to create a scenario that you can modify to your own liking or to a club of your choice.
Imagine this, one club has been removed from the EFL Championship, England's second tier, and we have the opportunity to be the 24th club. The problem is all of our players are gone, their contracts must have expired due to various reasons and we now must fill a 25-man squad. We also happen to have no academy, which would have been helpful right about now. The good news is we have a modest budget of £15m to spend exclusively on transfer fees. This may seem like a large budget for a Championship side, but in all reality, we have 25 spots to fill, which means we can spend just £600k per player. If we want to acquire the quality we need to survive the Championship, certain roles will need more investment than others. For example, our primary goalscorer should probably see a bit more investment than our fullback who we expect to play in just 10% of available minutes. This means that we certainly should be considering our options who find themselves currently out of contract or potentially available on loan as a way to allow investment in other aspects of our squad. Without further adieu, let's build our foundations, determine our game model, and fill our squad.
Foundations of the Team – Utilizing Twenty First Group Methodology
You may be familiar with the sports intelligence consultancy Twenty First Group if I refer to them as 21st Club, the consultancy's football-specific branding that has recently merged operations with their in-house golf organization 15th club. If you aren't familiar with Twenty First Group, I would consider checking out their popular three volumes of insights titled "Changing the Conversation", which offer solutions to strategy, talent, performance, and planning at a broad level. While there are hundreds of pages of ideology and studies that should be considered within these books, I'd like to reference five teachings that I view as key.
First, we have a categorization of players and squad roles. A core player is one who is in his peak age and is expected to be making an immediate impact on the first team, your ten most frequently used outfield players make up your core players. A squad player is a player still developing and is here to grow with the club, your next seven most frequently used outfield players are your squad players. Finally, a fringe player is a player past his prime and is only here to offer depth and stability/experience for the team. These outfield players become the final five players, or 18-23 on a squad list, assuming two goalkeepers are kept in support. (The Fringe Player Dilemma found on page 69 of Changing the Conversation Volume 1)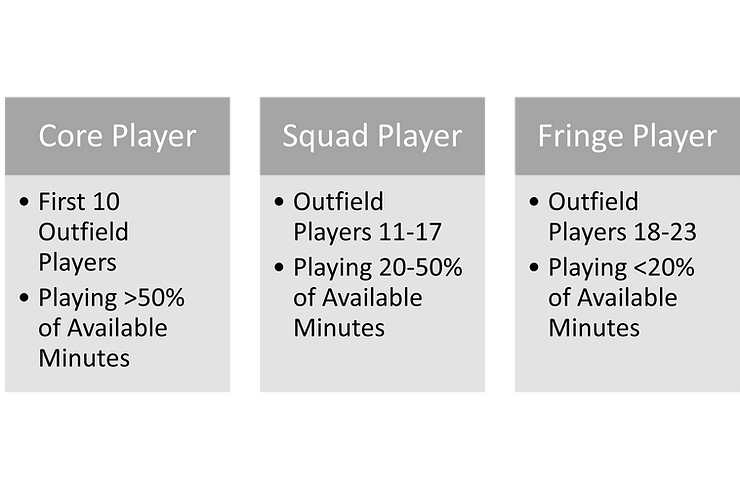 Player Usage Breakdown
Considering how much we should pay our core players, squad players, and fringe players, we can assume 60% of a wage budget being allocated to the first team. In the example created by Twenty First Group, a Premier League club is allocating £62,500,000 to wages. For the core players, which we can expect to be utilized 50% to 100% of available minutes, each player will be expected to be earning £33,000 to £66,000 per week, or 5% of the weekly wages. For squad players, which can be expected to be playing 20% to 50% of available minutes, we can be expecting to allocate £13,000 to £33,000 per week on wages, or 3% of the weekly wages. Finally, for the fringe players, who will be playing 20% of available minutes at most, we should be looking to allocate at most £13,000 per week or 1% of the weekly wages. We can take this model and apply it to our transfer fees to utilize how much we should spend per player. If we go back and consider our £15,000,000 transfer budget. (How Much Should We Pay found on page 55 of Changing the Conversation Volume 1)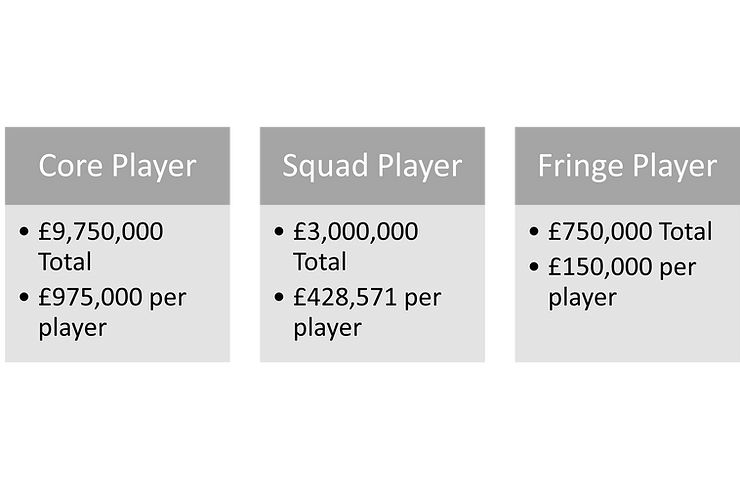 Applying Our Budget to the Twenty First Group Model
If we were to allocate the budget as follows:
Core Players receive 65% of the transfer budget
Squad Players receive 20% of the transfer budget
Fringe Players receive 5% of the transfer budget
This allows us to allocate a remaining 10% of the budget to signing three goalkeepers for our roster. To break down the potential average spending per outfield player of £975,000 per Core Player, £428,571 per Squad Player, and £150,000 per Fringe Player. For goalkeepers, we could spend £500,000 per goalkeeper, but we want our third-choice goalkeeper to be on a free, if not also the second-choice.
While we won't be diving into wages when building our squad, I wanted to touch on an optimized wage bill. Based on research by Twenty First Group, the ideal wage bill across a squad is broken down as follows:
Top 5 Players: 40%
6-10 Players: 25%
11-15 Players: 15%
16-20 Players: 12%
21-25 Players: 8%
This is worth remembering when considering the role of the player you are looking for and how much to be paying for the talent you are acquiring. There is no point in tapping into your squad player transfer budget for a player that you will pay bottom-tier wages for. (Intentional inequality, found on page 221 of Changing the Conversation Volume 3)
As we transition to our recruitment, we have to consider our player base. If I were to filter all players available with a value under £1,000,000, we will find that there are 440,502 players that can be classified as "acquirable". We face the challenge of having more players available who can help our cause than good. To consider an example in the text, only a select few players could improve Juventus despite Juventus having a very large budget. Then there are clubs like Stade Rennais who have a budget that is 1/8 the size of what Juventus have but could consider roughly 2,500 players as positive fits on their current squad. (Less money mo problems, found on page 35 of Changing the Conversation Volume 3)
Finally, in order to win, we must score. The first player that is on anyone's mind when building a squad is "Who do we bring in as our top scorer?". Well, we have to consider the distribution of goals scored. The leading goalscorer of a club scores about 26% of the non-penalty goals for a team. The text suggests a Premier League side targeting 7th place needs a striker who scores about 13 goals per season. If we apply this to the 2020-2021 Championship season results, we could say that if we wanted to finish in an automatic promotion spot (top 2) we would need a striker scoring at least 17.94 goals. If we wanted to find ourselves in a playoff battle, we would need a striker scoring 17.29 goals. If we wanted to be in one of the midtable spots, we would need a striker scoring 12.95 goals. We will be looking for a midtable striker for our squad later on in our scouting. (A Balancing Act, found on page 124 of Changing the Conversation Volume 2)
Before we consider the rules of building our squad and creating our game model, I'd like to again recommend the work of Twenty First Group. I have referenced their work often throughout my career and I suggest anyone looking to gain knowledge in a more efficient operation of a football club.
Rules of a Championship Squad Registration
In order to build a squad, we have to be aware of the rules that limit what we can and cannot do. If we reference rule 43.9 of EFL Governance we will find the following:
Clubs shall be permitted to name up to a maximum number of players in their squad list based on the following:
In respect of Championship Clubs, 25 players of which 8 must be a Home Grown Player
Under-21 Players who are on loan to Championship clubs are counted towards the 25 player limit
For those unfamiliar with the rule, a "Home Grown Player" is any player (with any nationality) that has trained with a club in an English or Welsh academy for at least 3 years between the ages of 15 to 21. An example of this is Joshua King, who trained with Manchester United from ages 17 to 21. Despite being Norwegian, this makes him qualified as a Home Grown Player. On the opposite side of things, English international Eric Dier trained from ages 9 to 20 with Sporting CP in Portugal, making him a player who does not count for the 8-player homegrown minimum.
Our Game Model
Before we can create our own game model, we must first be aware of what our competition is doing. With a quick analysis of what is most commonly used as a base model throughout the Sky Bet Championship, we will find that the 4-2-3-1 is the most common, with a variation of a 3-back as the second most commonly utilized shape. If we want to look at the most successful three, however, we see that two of the sides utilized a 4-3-3 base formation. For the 18 sides that remain in the Championship, only two others utilized the 4-3-3. Therefore, we can reason that a 4-3-3 can work well if done right in the Championship and that is what we will do as our base formation. Out of possession, our shape will appear more like a 5-2-3, while in possession the shape will transform into more of a 2-5-3. We want to be compact and daring the opposition to break us down, to force mistakes.
Now that we have an idea of what base shape we will utilize, we can next implement the core values. Our core values are the non-negotiables that will be constants in the key performance indicators (KPIs) that we utilize in recruitment. We will focus on building a team that can press effectively at a high tempo and utilizes a more controlled possession via short passing as our main two values. We can write pages upon pages going into detail on the marking systems and positional play, but I would need to contact a publisher to turn this into a book in order to include all of this. Instead, I have included a couple of references at the end of this article that provide further reading.
Moving onto the individual player fundamentals, this will set the framework for our KPI integration in recruitment. As we recruit, we will be aiming to find the best possible fits in these roles no matter the player role (core, squad, fringe).
Goalkeeper:
Our goalkeeper should always be showing as an option. When the backline is in possession, our goalkeeper needs to be in the space. If the fullback has the ball, he must be positioned in the space between the central defender and the fullback roughly 15-20 metres. It is important to have the body positioned to create the next distribution within two touches.
As the buildup continues, he should stay 15-25 metres behind the closest defender. There will be balls played over the top and the goalkeeper should have the expectation to come off the line to intercept.
When the ball is in the opposite half, always be in line with the ball, moving side-to-side with it. Never further than 30 metres from his goal.
In crossing situations, our goalkeeper must be comfortable coming off the line to challenge in the air.
Central Defenders:
Organization is key. Our central defender pairing should sit slightly behind the fullbacks.
Aerial dominance is critical. There will be plenty of aerial chances on either end of the pitch and this is an aspect of the game that can be predicted, controlled, and capitalized on.
In open play, the central defenders should never advance beyond the half-line.
When a fullback advances, the defenders should shift to the advanced side. For example, our right outside back is overlapping in the transition. The two central defenders should shift to the right.
When distributing, the central defenders look be looking at the holding midfielder first. If he is not an option, then look to the near flank with a preference of looking short and diagonal to the fullback. Finally, if there are still no outlets aim high and wide.
It is important for our central defenders to not be pulled out trying to make interceptions that are too ambitious.
Recruitment Note: Left-side defenders should be left-footed. If a premium is needed on the transfer fee, it should be paid.
Fullbacks:
Overlaps, Overlaps, Overlaps. As with the modern game, our fullbacks should be toeing the line of becoming wingbacks. They must be very progressive and competent in attacking positions.
Much like the central defenders, a left-footed player will be on the left side and a right-footed player will be on the right side.
On the attacking end, we want our fullbacks to be very capable of playing accurate and dynamic crosses.
When one flank advances, the other flank should move into the half-space rather than the flank and can advance up to 15 metres ahead of the central defenders.
While the players are in a more attacking role, we are not using pure wingbacks in general. There must still be a high level of defensive competency.
Holding Midfielder:
Out of possession, the holding midfielder needs to be a machine at winning possession back. Strong in aerials to capitalize on opposition's goalkeeper distributions, strong in intercepting, and strong in tackling.
The holding midfielder should be staying central, there should always be a clear triangle with the holding midfielder and each individual around him. Ideal positioning is slotted in the gap between the central defenders.
Passes will be received most often in two scenarios; from the central defenders or from the central midfielders. When receiving from the central defenders, his back will likely be facing the opposition, there must be strength and the ability to turn and look towards advancing fullbacks. He must be looking wide. When receiving a drop from the central midfielders, be looking to the opposite side of the pitch. If the ball was played from the right central midfielder, be prepared to play to the left fullback or left central midfielder.
The holding midfielder should be able to drop into a stopper role out of possession, sitting a few metres ahead and in between the central defenders.
In the attacking zone, the holding midfielder can advance about 15 metres ahead of the half-line.
Central Midfielders:
Our central midfielders should be competent in pressing, we want to be suffocating the opposition as soon as they acquire possession to make sure the ball does not advance beyond the transitional zone.
Spacing is key. No closer than 15 metres between the left and right central midfielder.
When advancing, the possession-based side should be finding himself as an option between the fullback and the winger, while the opposite side should be advancing in the space between the central forward and the winger, but sitting about 10 metres back.
Out of possession, the central midfielders will shift laterally with the ball. We don't want the left central midfielder occupying the space of the right central midfielder, but we do want him finding himself as close to the center of the pitch as we can. The ball-side midfielder will be the main player pressing the opposition.
The central midfielders cannot be afraid to shoot. We want high-quality chances, we do not want to waste possessions, but if the gap is seen, we want midfielders who can pull the trigger and put a shot on target.
Wingers:
Our wingers are advanced and inverted. When in the attacking zone, there should be runs between the defenders to get into a scoring opposition. This is where our goals come from.
Right wingers will be left-footed and left wingers will be right-footed to maximize an opportunity to cut in and shoot, something we want our wingers to be doing when they find themselves in space to dribble.
When the opponent's fullbacks are in possession, the wingers should be pressing and forcing the ball inside. This is where we have numbers and want to be winning the ball in most situations.
When the opponent's central defenders are in possession, our wingers must be denying the passing angles that provide outlets to the flanks.
If our fullbacks are advancing with the ball, our wingers should be the preferred option, meaning they need to be in the position to play a 1-2 as the fullback overlaps and they immediately cut inside.
Opposite flank wingers need to be coming into the box and becoming an option on the cross.
Primary goal creation will either come wide from a cross or through from a central midfielder to the wingers, meaning our primary goalscorer will likely be a winger.
Central Forward:
Press. Press. Press. Our forward is our first defender and we want him winning the ball. If we can effectively pressure the backline and force mistakes here, the dynamic of the match is dramatically in our favour.
We do not need our forward playing off the last man, we want our forward dropping in and being an option to set up the final distribution before a shot.
When receiving a ball, the forward should distribute and go. He needs to get around the last man and be ready to take the opportunity.
We need the forward staying central, if it is a back four from the opponent, be slotted a few metres ahead but constantly between the central defenders. If it is a back three, be sitting slightly above the central defender.
We do not want a pure aerial striker, but someone who can win his chances when crosses come.
Recruitment
Goalkeeping (3 Players)
KPIs Considered: Prevented Goals/90, Aeriel Duels/90 (%), Interceptions/90, Exits/90, Passes Received/90, Short/Medium Passes/90 (%), Long Passes/90 (%), Minutes Played
Norrkoping's Oscar Jansson
As we begin our process of building a full squad, we start with looking for our number one goalkeeper. We want someone who is experienced and can help organize the defense. We want someone who can win the ball in the air, is comfortable coming off the line and is capable of seeing a high quantity of touches without wasting them. Finally, as with all goalkeepers, we want someone who effectively denies scoring opportunities. This brings us to 30-year-old Swedish goalkeeper Oscar Jansson. The 6'2 goalkeeper has 251 club appearances and one national team appearance to his name. He also qualifies as a homegrown player thanks to his development at Tottenham. For aerial actions and sweeping actions, Jansson averages 0.79 aerial duels/90 (winning 96.77%), 1.91 Interceptions/90, and 2.44 Exits/90. When it comes to distribution, Jansson receives 19.39 passes/90 and plays 19.32 short/medium passes/90 (98.95% accuracy) with 9.63 long passes/90 at 64.64% accuracy. Finally, Jansson prevents 0.268 goals/90. Oscar Jansson brings a high level of experience while still having a couple of seasons before he starts to decline. With a contract that expires in December of 2023, it will likely cost us £700,000 to bring him in from Allsvenskan side IFK Norrköping.
In a deputy goalkeeper, I want to be seeking someone who can be trusted to step in as a starter if needed and be a goalkeeper for cup matches, but also a goalkeeper who will be developing more. Sweeping abilities are less important here as our system demands comfort on the ball and an ability to deny goals. For our second goalkeeper, we will target 24-year-old Swiss goalkeeper Dario Marzino. Marzino is currently a free agent who most recently was contracted to Young Boys in Switzerland. The former Swiss champion goalkeeper lost his spot at Young Boys to David von Ballmoos, and was loaned out to FC Winterthur. It is there, in the Swiss second tier, where we become interested in him being our backup goalkeeper. Marzino averaged 14.22 received passes/90 and played 15.86 short/medium passes/90 with an accuracy of 98.07%. In addition to this, he also played 7.14 long passes/90 at an accuracy of 68.48%. The 6'0 goalkeeper prevented 0.14 goals/90 and will be a valuable asset on a free deal.
With our third-choice goalkeeper we would likely be calling someone up from our academy to split time, but because we do not have an academy, we will simply be getting the only under-20 goalkeeper I can find released from a Premier League club on Transfermarkt's free-agent list. 19-year-old Welsh goalkeeper Matthew Turner will join on from Leeds United. The 6'4 goalkeeper appeared in 9 matches in the Welsh Premier League for Haverfordwest and will count as a homegrown player.
Central Defenders (5 Players)
KPI's Considered: Defensive Duels/90 (%), Aerial Duels/90 (%), Shots Blocked/90, Interceptions/90, Passes/90, Short/Medium Passes/90 (%), Progressive Passes/90 (%)
Union SG's Christian Burgess
When we look at our central defenders, we need to rely on them to be the strong spine that they are. We want players who are strong in duels and comfortable in distribution. We do not need the best intercepting defender, but an added bonus would be someone who puts the body on the line and blocks a few shots. To start building our defence, we look to Belgium with 29-year-old Christian Burgess. Burgess is 6'4 and offers steady defensive abilities. When it comes to defensive actions, Burgess averages 5.64 duels/90 (winning 68%) and 7.73 aerial duels/90 (winning 70.16%). Burgess also is comfortable on the ball, averaging 46.87 passes/90, with 40.57 of those passes being short/medium passes. Burgess' distribution fits our game model, he has a clean bill of health, and could cost roughly £800,000 to bring the London-born homegrown defender from Union SG.
Looking for our left-footed partner, we are looking for the same exact strengths. This is our system, this is how we play. We will be targeting Jamie McCart to fill this role. The 24-year-old Scottish defender from St. Johnstone stands at 6'1 and has played 4200 minutes in the last calendar year. During those minutes McCart engaged in 5.48 defensive duels/90 and won 74.42% of them. He also engaged in 8.62 aerial duels/90, winning 69.61%. McCart played 38.1 passes/90, with 26.01 being short/medium passes at an accuracy of 85.11%. 12.49 of his passes/90 were progressive with an accuracy of 70.61%. Jamie McCart is a young defender with experience under his belt and plenty of growing still to do. He is a progressive distributor who is dominant in duels, fitting our model well. Jamie McCart would likely cost £450,000 and become a key player in our squad both today and tomorrow.
With our third defender, we are looking for a player still in their prime and showing the aspects of a ball-playing defender and able to win duels, but obviously this player is coming off the bench, the performance does not need to be as high as the starting pair. This brings us to Emmanuel Onariase of Scunthorpe United. Onariase averages 6.19 defensive duels/90 (winning 75.44%) and attempts 7.89 aerial duels/90 (winning 72.48%). When it comes to distribution, the English defender averages 20.81 short/medium passes with an accuracy of 84.52%. Oniariase is performing well at a lower level and is a comfortable investment at just £50,000. In addition to this, Oniariase is still only 24, meaning he can continue to improve and we can refine him to our game.
To round out our central defender core, I would like to be exploring the free agent market to bring in depth that perhaps would be outside of our individual player price range if they were actively under contract. These two players should be able to play fringe minutes, but also perhaps become options if the starting pair struggle to perform. First, we direct our attention to Tom Lees. The 6'0 English defender has spent the past 7 years with Sheffield Wednesday, making a total of 249 appearances for the club. Lees is decent in his challenges but struggles in the air a bit. His distribution fits our needs and he can be brought in on as a leader in our ranks. To add another left-footed defender, 6'3 English/Welsh defender Ben Turner is a strong distributor that looks to progress the ball well, but underachieves for his height in the air. It is unlikely that the 32-year-old will become a player that sees many minutes and would be a clear fifth option for the short term.
Fullbacks (4 Players)
KPIs Considered: Defensive Duels/90 (%), Crosses/90 (%), Dribbles/90 (%), Progressive Runs/90, Accelerations/90, Short/Medium Passes/90 (%), Progressive Passes/90 (%)
Everton's Niels Nkounkou
Looking at our defensive width, we have our fullbacks. We want players who can advance well, deliver accurate crosses, and still offer a strong defense. As we are through our first third of signings, we have still only spent 13% of our budget. Because goals come at a premium, we will invest more in the attack, but our first million-pound man will come in at right-back. Norway's Aslak Fonn Witry, playing for Allsvenskan side Djurgarden, is a progressive player who can bring an accurate cross (5.5/90, 40.38% accurate) and pinpoint passing (45.4 short/medium passes/90, 92.1% accurate). Fonn Witry could dribble more, but he offers enough stability at the back with his 63.73% duel success rate (7.33/90). Aslak Fonn Witry is only 25 and has a contract that expires in a year and a half. With the potential to improve, bringing Aslak Fonn Witry can become a key member of the team's transition for £1,350,000.
To support Fonn Witry will be Danish fullback Daniel Anyembe. Anyembe averages 4.4 crosses/90 with an accuracy of 40%, 1.57 dribbles/90 at 70.73%, and makes 1.3 progressive runs/90. In passing, Anyembe plays 10.03 progressive passes/90 with 76.34% accuracy and 33.48 short/medium passes/90 with an 86.97% accuracy. Daniel Anyembe is competent in his defensive abilities and offers good coverage for Fonn Witry with a comfortable price tag of £350,000.
On our left flank we will be bringing in our first loan deal; French youth international Niels Nkounkou of Everton. Nkounkou has played just 404 minutes in the last calendar year and is unlikely to see more soon at Everton, but he is an incredibly attacking option with good crossing abilities and strong dribbling. Nkounkou would average over 40 passes/90 and break 90% in his accuracy, but he has shortcomings on the defensive side. With Nkounkou being just 20-years-old, he can be trained to improve his defensive abilities while still being a progressive asset to make up for the dribbling limitations at right-back. With this loan signing and the other players signed, this likely will signal an attacking focus on the left flank.
Backing up Nkounkou we will be bringing international experienced Christos Wheeler. The 24-year-old Cypriot is playing for APOEL and has a contract that doesn't expire until 2023. That being said, he fits our role as a potentially more balanced and experienced fullback than Nkounkou. When defending, Wheeler is winning 66.67% of his 7.2 duels/90. When passing, Wheeler offers a 90.06% completion rate on his 36.6 short/medium passes/90. When it gets to crossing, he maintains a 41.35% accuracy. Christos Wheeler has a profile that is good all throughout, but not the best. This gives us the potential to bring him in for £500,000 with the idea of giving him closer to an even split of minutes with Nkounkou based on game-plan while both improve their overall game.
Central Midfielder
KPIs Considered: Goals, Expected Goals, Defensive Duels/90 (%), Aerial Duels/90 (%), Interceptions/90, xG/90, Shot on Target %, Offensive Duels/90 (%), Short/Medium Passes/90 (%), Passes to Final Third/90 (%), Progressive Passes/90 (%), Direct Free Kicks/90 (%)
Free Agent Jack Wilshere
As we start our search to build a midfield, it is important to remember our roles. We want a holding midfielder that is going to dominate the space, someone who wins the ball no matter how it is played, and someone who can read progressions to be in the spot to intercept. To find this perfect role, we will be getting a little creative with it. Yuta Nakayama, a 24-year-old Japanese left-footed central defender by trade playing for PEC Zwolle in the Eredivisie. While Nakayama has proven to be versatile, I believe his 6.06 interceptions/90 and his strong aerial abilities at 65.54% (5.04 aerial duels/90). In addition to the aerial strengths, Nakayama wins 65.52% of his defensive duels, which is not bad but could be improved. On the attacking side, he directs his rare shots on goal (44.44%) with a couple of goals to his name. Yuta Nakayama is an average distributor that wins possession. I believe it would likely cost £1,000,000 to bring Nakayama in from PEC Zwolle, but he offers room to develop (in the event of selling for a future profit) and fill the needs we presently need.
To support Nakayama, we will turn to the loan market for depth. Former Arsenal academy player Robbie Burton is currently in Croatia with reigning champions Dinamo Zagreb, but he is struggling to see regular first-team minutes. When he has played, he has been close to an exact fit on what we need out of a holding midfielder. Strong defensive numbers, a strong ability to read the play and intercept, and loads of accurate short passing. Burton needs to try to improve his aerial game, but the 21-year-old Englishman could be a very valuable player coming off the bench for us on a loan deal.
Looking at our central midfielders, we worry less about the defensive abilities and more about the progressive abilities. How accurate is the passing? Is it positive? Can he threaten the goal? The first player we will be bringing in to fill these roles is Joe Rothwell. The English midfielder is entering his prime (26) and is strong in progressive passing, with a forward pass accuracy of 75.18% and averaging 9.13 passes into the final third/90. Rothwell's downside is he is not the strongest at holding possession, but I believe this can be trained and Rothwell could be brought in for £1,750,000. In addition to Joe Rothwell, we can look to recently promoted Peterborough for our next midfielder. Jack Taylor is a 23-year-old Irish midfielder who plays a strong distribution of a game and brings a positive possession recovery aspect to our squad. In addition to being a strong fit with his recoveries and distribution, Taylor scored 6 goals this past season in Peterborough's League 1 promotion campaign. These strengths make Jack Taylor a young player we can rely on for plenty of minutes for what I believe would cost £800,000.
For support off the bench, we can look to free agent Danny Bakker. The Dutchman is left-footed and can play in central midfield or defence. He most recently played 3000 minutes for ADO Den Haag, where he offered comfortable abilities across the pitch, be it defensive, offensive, or distribution. Our other backup may be a more familiar name… Jack Wilshere. When he is fit, Wilshere is certainly capable of starting for a Championship side. As we all know with the former Arsenal man, fitness has always been the problem, which is why I am only listing him as a depth signing. During this previous season, Wilshere played limited minutes for Bournemouth but showed capabilities of still being a positive player on the pitch. If a transfer fee would be involved, I would say pass on Wilshere, but thanks to him being a free agent and home-grown player, we will add him to round out our midfield.
Wingers
KPIs Considered: xG, Assists, xA, Goals/90, xG/90, Shots/90, Shot on Target %, Goal Conversion %, Assists/90, Crosses from left flank/90 (%), Crosses from right flank/90 (%), Dribbles/90 (%), xA/90, Passes to Penalty Area/90 (%), Direct Free Kicks/90 (%)
Raja Casablanca's Sofiane Rahimi
As we look to our flanks, we have an emerging priority that will require some spending. We need goals. We need accurate shooters. With our game model and application of wingers making penetrating runs, this means we have the potential of our leading goalscorers not being a classic striker but rather our wingers. If we recall from our foundations of the team, we know we need to find someone putting in roughly 12-13 goals for our midtable battle. Sofiane Rahimi is the first name to add to our flank. The 25-year-old Moroccan is currently playing at Raja Casablanca in Morocco and brings with him strong shooting abilities. In this past season, Rahimi tucked away 23 goals (17.86 expected) with 2.64 shots/90. Rahimi is a very accurate shooter with an accuracy of 51.3% and compliments his shooting ability with dribbling success. To put it into perspective, Mohamed Salah is (in a much stronger division) averaging 4.21 dribbles/90 with a success rate of 39.17%. Rahimi is averaging 4.5 dribbles/90 with a success rate of 48.47%. Sofiane Rahimi is a transfer that comes from outside the normal methods and he should cost us £1,500,000 assuming he can get a work permit.
Looking at the other flank, we can look to hijack a transfer for Gavin Whyte. The Northern Ireland international spent this past season on loan at Hull City, helping them win promotion, but has since rejoined Cardiff City. With reports suggesting that Mick McCarthy is willing to sell Whyte and Hull City interested, there will be some competition for his signature. Whyte has been criticized for his lack of attacking production in the past, which is why we are not looking at him to be more than a support goalscorer. Whyte can dribble his way out of pressure with 2.83 dribbles/90 at a success rate of 67.57% to show for it. The 25-year-old is accurate with 42.86% of his crosses from the right flank and could be able to turn up his production if given the opportunity. Whyte is only averaging 1.15 shots/90, but he is hitting the target 60% of the time with and converts 20% of his shots. Gavin Whyte is hitting his peak, if he were to be played in a system that creates more opportunities, there is nothing that says he can't score a handful of goals. Given the interest from Hull, it would likely cost us £750,000 to bring him in from Cardiff City.
Coming off the bench as our depth is Renny Smith (24, England/Austria) and Jordan Stevens (21, England). Renny Smith is currently playing off the bench for WSG Tirol in Austria, but there are reasons to see Smith might be underappreciated. Smith puts his shots on target nearly a third of the time and he is an average crosser of the ball, but Smith is interesting because he is incredibly accurate in distributing to the penalty area. Smith would likely cost us just £200,000. In Jordan Stevens, we find someone on the transfer list. The 21-year-old is quick to play the ball in but needs to improve his accuracy with his crosses. Jordan Stevens averages 36.36% of his shots on target and 3.97 dribbles/90 (50% successful). For just £100,000, Stevens can come in as a prospect that can be refined with plenty of upside.
Central Forwards
KPI's Included: Goals, xG, xG/90, Shots/90, Shots on Target %, Goal Conversion %, Assists/90, Offensive Duels/90, Offensive Duels/90, Touches in Box/90, Received Passes/90, xA/90
Brondy Striker Mikael Uhre
As we enter the search for our final position on the pitch, we have funds available. While we have discussed the option of a forward not being the primary goalscorer and the potential of Sofiane Rahimi becoming the main scorer, we are still seeking forwards that score. In addition to scoring threat, we want forwards that can competently press. With that being said, our first target is reigning Danish Superliga champion Mikael Uhre. The 26-year-old is coming off a 21 goal season (20.64 xG) with a conversion rate of 25.926%. Uhre engages in 7.31 offensive duels/90 with a success rate of 37.65% and 5.56 aerial duels/90 (winning 46.39%), meaning Uhre is a threat in pressing and in the air. Brondby's main scorer fits what we are looking for and offers very efficient scoring rates, making him our first acquisition in the forwards' department for £2,000,000.
In terms of depth, we still want players who can either make an impact off the bench or see substantial minutes. This brings us to another Union SG player, Dant Vanzeir. Vanzeir is a 23-year-old Belgian who was the top scorer of the Belgian second division. Vanzeir outperformed his xG by 6.86, scoring 20 goals. Vanzeir is an incredibly efficient shooter, but he struggles in the air. For potentially £1.5m, we can get Vanzeir as a developing striker with plenty of positives.
To fill our final spot on the squad, we find Rhys Healey. Healey failed to establish himself in England after many loan moves away from his parent club Cardiff City before he finally found success with Toulouse in the second division of France. Healey scored 15 goals (13.56 xG) in the 2020-21 campaign. Healey is average in the air and average in his duels, but as he goes into his prime we can look at him as a quality home-grown option off the bench for £1,200,000.
Our Squad List
With the signing of Healey, we have finished building our 25-man-squad with a £15,000,000 budget for a Championship squad. This scenario was a lot of fun to write as I looked to help create a better idea of squad building and recruitment analysis and I hope you enjoyed it. As I end the article with our final squad lists, how well do you feel this team would perform in the Championship? Could we achieve a midtable finish? What game model would you create and who would you sign in this scenario?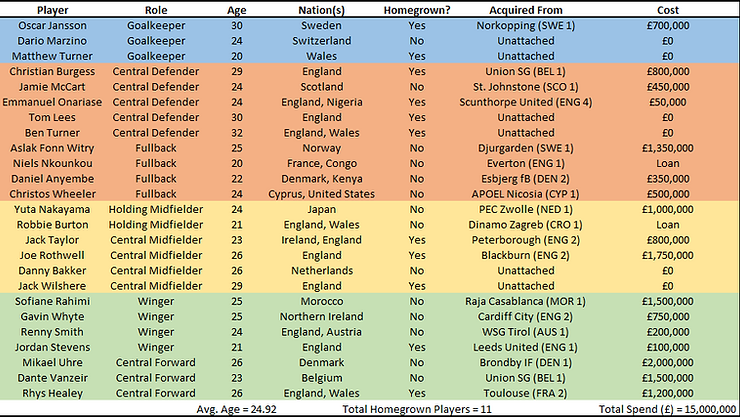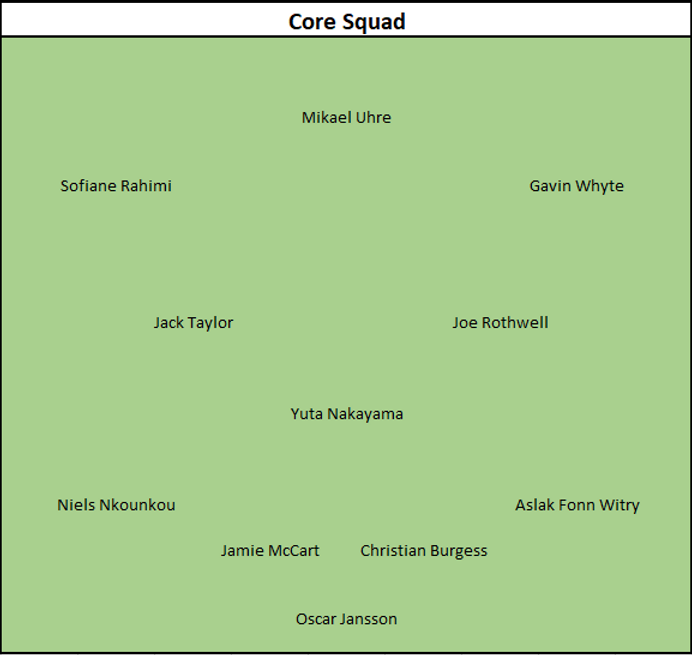 Additional References for Further Reading
Changing the Conversation Volume 1
Changing the Conversation Volume 2
Changing the Conversation Volume 3
Rene Maric's Game Model Guide: https://spielverlagerung.com/2016/03/07/how-to-create-a-game-model/
Martín Grosman's Guide to Positional Play: https://touchlinetheory.com/the-practical-guide-to-actually-understanding-positional-play/
Final Note: Player Information Accurate as of July 11th, 2021. Data is sourced from WyScout with Player Information from Transfermarkt.
by Aidan Reagh
@ARDataAnalysis