Berlin, Germany – Europe's fifth largest city. Home of perhaps one of the most underperforming clubs in the world… Hertha Berlin. For a quick history lesson, Hertha was a founding member of the German Football Association. Nicknamed "The Old Lady", she certainly has her fair share of passionate supporters. However, the club has not won a major competition since 1931. More importantly, the club has fallen behind bitter rivals Union Berlin in modern times. Hertha Berlin has struggled on and off the pitch in recent years with frequent staff changes and a poor transfer record, but how has it all gone wrong?
Ownership of the Club
Germany's 50+1 rule came into effect in 1998, meaning clubs were no longer exclusively owned by members' associations. Investors and private companies could now come in and take a larger control of a club, but only in a minority capacity. The original members' associations had to control at least 50% of the shares plus one additional share to maintain control of the club. Jump forward to June 27 th , 2019 – a day that was supposed to be the start of an exciting new era for Hertha Berlin. Entrepreneur Lars Windhorst, founder of the investment firm Sapinda Group (now known as Tennor Holding B.V.), had completed one of the Bundesliga's largest minority acquisitions, spending €125m on Hertha Berlin. With the ambition of becoming Germany's next mega club, the club now finds themselves in a worse position than they were in before the investment. As of October 6 th , 2022, Lars Windhorst is seeking €374m, his total investment in the club, back after a falling out with the current club president. While we can't look to the future and know who might replace Windhorst or the direction Hertha Berlin might find themselves having to go, we can look back at the recent years and analyze where the club has gotten it so wrong under Windhorst.
Directors and The Coaching Carousel
While we will focus on the Hertha era under Lars Windhorst, we must go slightly sooner in the timeline to the start of the coaching carousel Hertha have found themselves in. On April 16 th , 2019, General Manager Michael Preetz determined that after four years of gritty football that saw Hertha rise to midtable consistency under club legend Pal Dardai, the club needed to go in a more expansive direction. Dardai would be removed as head coach at the end of the 2018-19 season but would keep his "general contract" with the club and become a youth coach. The search for an exciting manager led to talks with Erik ten Hag (who decided to stay with Ajax after a terrific UCL run instead of joining a midtable Bundesliga side, shocking right?), Roger Schmidt, and Andre Villas-Boas… both also declined to join. With the season quickly approaching, U23 coach Ante Covic was promoted to lead Hertha's new era of wealth from the touchline in an exciting way. This quickly failed, and after just 14 matches, Covic was sacked. Shortly after joining the Hertha board, Jurgen Klinsmann became the head coach. Klinsmann had a challenging schedule ahead of him, facing (at time of appointment) 8 teams in the top half of the league for his first 10 matches. After 10 matches and a winter transfer window that saw an astonishing €77m spent on just four players,
Klinsmann announced his resignation via Facebook, citing a lack of trust from leadership as his reason. Klinsmann's assistant and former Werder Bremen manager Alexander Nouri would take over until a new candidate was found. Soon after, the fourth man to take charge of Hertha Berlin in the 2020-21 season was selected in Bruno Labbadia. Labbadia had the task of saving Hertha Berlin from a disaster relegation, and to his credit he accomplished the task. After nine months and two transfer windows (spending €31.5m on 7 acquisitions), Bruno Labbadia's coaching still had Hertha Berlin in relegation danger. The club announced Labbadia's contract would be terminated with General Manager Michael Preetz also being sacked. Arne Friedrich, already working in the club, took over Preetz' duties in the short-term as the sporting director and Pal Dardai would return once more as the head coach.
Hertha Head Coaches Under Preetz (2019 – 2021)
| Coach | Matches Managed | Points per Match |
| --- | --- | --- |
| Pal Dardai (2015 – 2019) | 172 | 1.38 |
| Ante Covic | 14 | 1.21 |
| Jurgen Klinsmann | 10 | 1.20 |
| Alexander Nouri | 4 | 1.25 |
| Bruno Labbadia | 28 | 1.07 |
Over the summer of 2021, we saw Hertha Berlin take more aggressive actions in their hunt to no longer be just the "big spending club" but rather a performing club. The incredibly efficient and successful Fredi Bobic was successfully lured from Eintracht Frankfurt to take over sporting duties and to turn the club around. Bobic pledged to bring stability and a long-term process in the club's thinking with more controlled spending, which sounded and appeared to be an improvement. While Dardai was trusted to see out the second half of the 2020-21 season, he found himself sacked going into the winter break of the 2021-22 campaign. His 31 matches in charge (less than one full season) were the longest tenure of any Hertha Berlin coach since his first tenure. Tayfun Korkut came in as Dardai's replacement on the interim basis, but was a disaster, averaging just 0.64 points per match. After 14 matches and a clearer relegation threat than ever before, the interim was sacked for a new interim – Felix Magath. Magath's reputation as a demanding coach was just who Bobic felt was needed to save the club from relegation. Much like the appointment of Labbadia, the club survived in the Bundesliga for another year. Over the summer of 2022, Fredi Bobic felt he finally found his man by appointing Sandro Schwarz. The former Dynamo Moscow and Mainz manager was someone with "passion, emotion, and the ability to excite, as well as the right technical skills" with a "positive and forward-thinking style of play" according to Bobic. Going into the 2022 World Cup break, Sandro Schwarz has the club one point out of the relegation zone (only out of the playoff spot thanks to goal differential).
Hertha Head Coaches Under Bobic (2021 – 2022)
| Coach | Matches Managed | Points per Match |
| --- | --- | --- |
| Pal Dardai | 31 | 1.23 |
| Tayfun Korkut | 14 | 0.64 |
| Felix Magath | 9 | 1.11 |
| Sandro Schwarz* | 16 | 0.88 |
*Currently Head Coach of Hertha Berlin, as of 15.11.22
Hertha Berlin have employed 9 coaches in a permanent or interim capacity (including the end of Dardai's first tenure) since Windhorst invested in 2019, averaging 2.25 appointments per season. While it is obvious that this is an incredibly high rate and would make it impossible for any club to achieve long-term success with this level of inconsistency, we can put it into further perspective that the other 13 Bundesliga clubs not to be relegated/promoted in the same period averaged 1.1 appointments per season.
The Squad Building of Hertha Berlin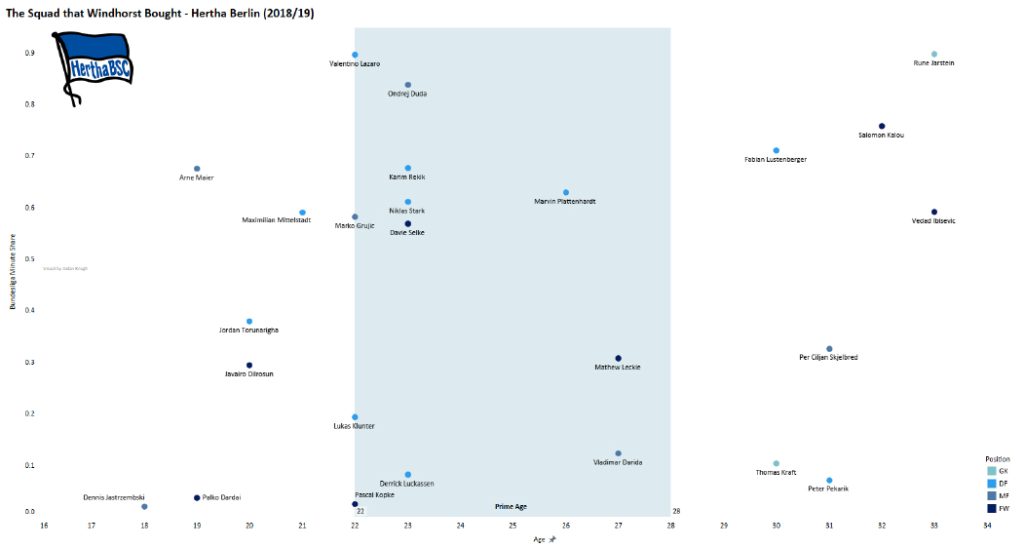 When Lars Windhorst arrived with his investment, the Hertha squad consisted of a range of age profiles (see visual below) and was a squad that reasonably met Bundesliga midtable expectations (which is where the club was performing).
With the investment, Preetz had an opportunity to bring in a few exciting players to bring the squad to the next level. For the first window of the 2019-20 season, the club sold wingback Valentino Lazaro for €22.4m to Inter Milan. Dodi Lukebakio, who had established himself as an exciting attacking talent in the Bundesliga in a previous season loan at Fortuna Dusseldorf, was acquired from Watford for €20m. The dynamic forward fit the ambitions of Hertha's long-term project that promised transition from the defensive football the club had grown accustomed to into a more attacking system desired by Preetz. Celtic central defender Dedryck Boyata arrived to bolster the defence, while Eduard Lowen (Nuremberg) and Daishawn Redan (Chelsea U23) both arrived as young players with reasonable upside. The summer window was a low spending one, and all things considered, a smart window. The errors came in Preetz' winter window – a window that comes with elevated fees and panic. Due to the departure of Covic and the early struggles of Jurgen Klinsmann, Preetz still had not seen the attacking play he had hoped for.
Midfielder Lucas Tousart was acquired from Lyon for €25m, but despite this fee, he was loaned back to see out the rest of the season in France. It isn't difficult to imagine other midfielders capable of improving the first team would have been attainable for perhaps a lower fee… at the very least players immediately available. Polish striker Krzysztof Piatek had fallen out of form since his arrival at AC Milan, so Hertha Berlin thought they could perhaps revitalize him at the cost of €24m – Piatek would depart after 2 seasons, scoring just 11 goals in 47 matches. Promising striker Matheus Cunha and midfielder Santiago Ascacibar would also arrive for €18m and €10m. The €77m spent in a winter window put Hertha Berlin as one of Europe's leading spenders, but the results did not follow. Preetz' signings all had upside, with only Boyata already in his prime. The fees were perhaps inflated, but it could be argued there was a clear strategy.
Thanks to football being a results-based business that is often accompanied by short-term thinking, when things weren't working out for Hertha, the strategy was quickly forgotten about. In Michael Preetz' final season as the general manager, the signings were no longer as focused. Bundesliga veterans Alexander Schwolow and Jhon Cordoba arrived for a combined €22m while German international Sami Khedira, at this point well past his prime, arrived on a free deal to add experience in the winter. Out-of-favour midfielder Matteo Guendouzi arrived on loan while Deyovaisio Zeefuik and Omar Alderete were acquired for lower fees as young defenders who offered more long-term hope. While you might think of this as a balanced window, the truth is these players did not compliment each other. By the end of the winter window, Michael Preetz would be dismissed, and Fredi Bobic would arrive as the decision-maker. Just three players acquired by Preetz after the Windhorst investment are still playing for Hertha Berlin today.
External Acquisitions Under Michael Preetz (Post-Investment)
| Player Name | Transfer Window | Transfer Fee | Player Age |
| --- | --- | --- | --- |
| Dodi Lukebakio* | Summer 2019 | €20,000,000 | 21 |
| Eduard Lowen | Summer 2019 | €7,000,000 | 22 |
| Daishawn Redan | Summer 2019 | €2,700,000 | 18 |
| Marko Grujic | Summer 2019 | Loan (€2,000,000 fee) | 23 |
| Marius Wolf | Summer 2019 | Loan (€2,000,000 fee) | 24 |
| Dedryck Boyata | Summer 2019 | Free | 28 |
| Lucas Tousart* | Winter 2020 | €25,000,000 | 22 |
| Krzysztof Piatek | Winter 2020 | €24,000,000 | 24 |
| Matheus Cunha | Winter 2020 | €18,000,000 | 20 |
| Santiago Ascacibar | Winter 2020 | €10,000,000 | 22 |
| Jhon Cordoba | Summer 2020 | €15,000,000 | 27 |
| Alexander Schwolow | Summer 2020 | €7,000,000 | 28 |
| Omar Alderete | Summer 2020 | €4,000,000 | 23 |
| Deyovaisio Zeefuik* | Summer 2020 | €4,000,000 | 22 |
| Matteo Guendouzi | Summer 2020 | Loan (€1,000,000 Fee) | 21 |
| Sami Khedira | Winter 2021 | Free | 33 |
| | | TOTAL SPENT | €141,700,000 |
*Notes Player Still Playing for Hertha Berlin
What Tomorrow Offers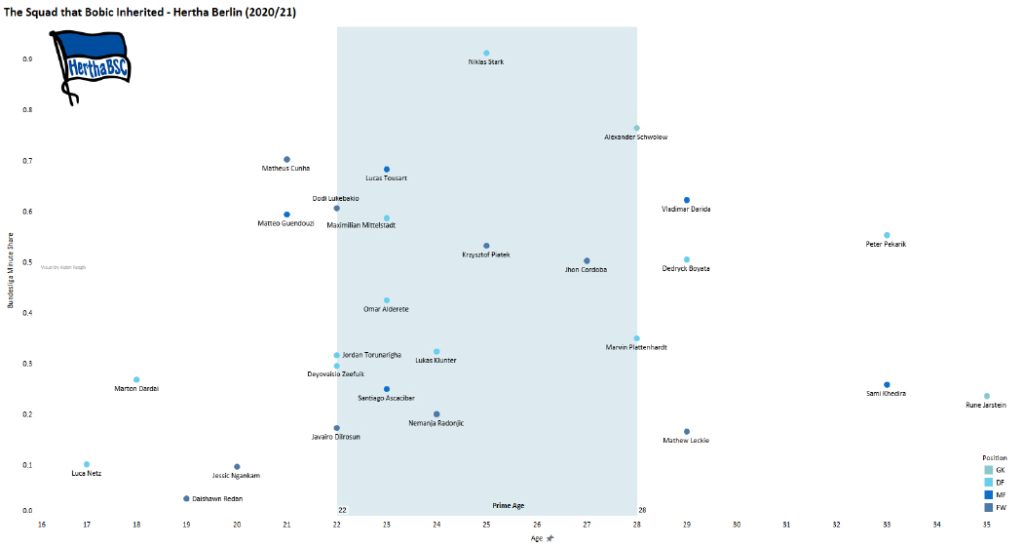 When Fredi Bobic arrived in the summer of 2021, he inherited a squad built by Preetz that was largely in it's prime, but massively disjointed and severely underperforming. With bloated wages, Bobic needed to clear out the deadweight to make room for new acquisitions. Much like the Summer 2019 window, Hertha acquired young players for reasonable fees that addressed key positions, with Suat Serdar (24, Schalke) and Jurgen Ekkelenkamp (23, Ajax) addressing the midfield shortcomings while Marco Richter (23, Augsburg) and Myziane Maolida (22, Nice) would play on the flanks. Oliver Christensen (23, OB) arrived from Denmark as a long-term solution in goal. The five young acquisitions cost Hertha Berlin €25.1m, with the four outfielders immediately involved in their debut season. To assist the younger players came three forwards; Ishak Belfodil (29, Hoffenheim) for €500k, Stevan Jovetic (31, Monaco) for free, and Berlin- native Kevin-Prince Boateng (33, unattached) – these three were low risk signings that added experience to the squad and could perform at a Bundesliga level in the short-term. Cunha and Cordoba departed the club for a combined €46m – meaning for the first time since Windhorst's investment, Hertha Berlin had a positive net balance. In the winter, just €1.8m would be spent on Dong-Jun Lee (24, Ulsan Hyundai), Marc Oliver Kempf (26, Stuttgart), Fredrik Bjorkan (23, Bodo/Glimt), and Kelian Nsona (19, SM Caen) – only central defender Marc Oliver Kempf would feature regularly. By addressing needs of depth in January, Hertha managed to avoid overspending and kept pressure low on players.
This past summer, Hertha Berlin again turned a net positive transfer balance and cleared deadweight. The club took advantage of the rising trend of players letting their contracts run out by bringing in Jonjoe Kenny (25, Everton), Jean-Paul Boetius (28, Mainz), and Filip Uremovic (25, Rubin Kazan) on free deals that improved the first team. Wilfried Kanga (24, Young Boys) was acquired to inject some youth into the experienced attacking core, while Agustin Rogel (24, Estudiantes) arrived as another defensive option with very low risk. Finally, Chidera Ejuke (24, CSKA Moscow) and Ivan Sunjic (25, Birmingham) were brought in on loan to add short-term improvements to the first team.
External Acquisitions Under Fredi Bobic
| Player Name | Transfer Window | Transfer Fee | Transfer Window |
| --- | --- | --- | --- |
| Suat Serdar | Summer 2021 | €8,000,000 | 24 |
| Marco Richter | Summer 2021 | €7,100,000 | 23 |
| Myziane Maolida | Summer 2021 | €4,000,000 | 22 |
| Jurgen Ekkelenkamp | Summer 2021 | €3,000,000 | 21 |
| Oliver Christensen | Summer 2021 | €3,000,000 | 22 |
| Ishak Belfodil | Summer 2021 | €500,000 | 29 |
| Stevan Jovetic | Summer 2021 | Free | 31 |
| Kevin-Prince Boateng | Summer 2021 | Free | 34 |
| Dong-Jun Lee | Winter 2022 | €800,000 | 24 |
| Marc Oliver Kempf | Winter 2022 | €500,000 | 26 |
| Kelian Nsona | Winter 2022 | €500,000 | 19 |
| Fredrik Bjorkan | Winter 2022 | Free | 23 |
| Wilfried Kanga | Summer 2022 | €4,000,000 | 24 |
| Agustin Rogel | Summer 2022 | €400,000 | 24 |
| Filip Uremovic | Summer 2022 | Free | 25 |
| Jean-Paul Boetius | Summer 2022 | Free | 28 |
| Jonjoe Kenny | Summer 2022 | Free | 25 |
| Chidera Ejuke | Summer 2022 | Loan | 24 |
| Ivan Sunjic | Summer 2022 | Loan | 25 |
| | | TOTAL SPENT | €31,800,000 |
Fredi Bobic has differed from Preetz by being fiscally reserved. The players match a long-term ambition while also having the talent to manage in the short-term. Hertha Berlin currently finds themselves in 15 th place, only out of the relegation playoff spot thanks to goal differential, and head coach Sandro Schwarz might be under pressure soon if results do not improve after the World Cup. Hertha Berlin may not be high spending, but the club has become smarter in operations since Fredi Bobic arrived. The puzzle of success is there, but will the right pieces continue to be put together?
Lessons to Learn
Be realistic – targeting unrealistic acquisitions will only lead to panic
Have a succession plan that identifies replacement candidates who fit the club identity in case you need to change personnel
Winter transfers come at a higher price, which means more pressure to succeed. The risk associated with the fees often do not match the reward.
Create a strategy that allows for short-term success while you build for long-term goals. A relegation would have been tragic for Hertha Berlin, but the initial strategy didn't account for failures.
Consider your other players when making signings, your puzzle pieces of success all must belong to the same puzzle to work.
A rising market trend is players are letting their contracts run out and moving on frees – be aware of the contract situations in your market, you might just find players who can improve your first team without the cost of negotiating with another club.
By Tom Weber