"We have moved on from the time when nobody knew what the characteristics of Spanish football were. Before, we all knew about Italian football, English football, German, Argentine, and Brazilian. Now, it's good to say that Spanish football is here." – Fernando Hierro, former head coach of the National Team of Spain, legend player of Real Madrid
Today, we can say that Spanish football has long been turned into an Ecole that offers football players the opportunity to develop themselves, especially technical and cognitive manner. The years when European football was dominated by Real Madrid and Barcelona, the times when we had the chance to watch football legends such as Cruyff, Ronaldinho, Messi, and Ronaldo will remain as the signatures of Spanish football in history. However, the league is currently struggling to regain its former glory while Spanish top clubs getting euchred out of their big stars one by one to the teams in other top European teams and the glittering rise of the English Premier League in the eyes of both players and spectators. So, what should the next move be for them?
A stable philosophy
Despite the lack of financial power of Spanish clubs in comparison with the English clubs, Spain has always stood out with the fact that the youth academy structures of the clubs are very developed and produce high-caliber football players at the national and international levels.
According to the CIES Football 2021 report, 16.3% of the minutes played in LaLiga Santander in the 2020-2021 season is the time played by players trained in LaLiga clubs. In this sense, LaLiga has the highest percentage of the top five leagues in Europe. Additionally, four of the five clubs that provide the most playing time for domestic players are in the LaLiga: Athletic Bilbao (50.9%), RC Celta de Vigo (49.0%), Real Sociedad (48.5%), and CA Osasuna (34.3%).
Despite the struggles or rivalry between the clubs in a highly competitive environment, Spanish football has always been famous for having a structure that creates, develops, and preserves its own culture, methodology, and football environment. Maintaining the competitive quality and sustainability of the league is considered a benefit for all. Promoting and enhancing the Spanish football culture and its values is the key element for progression.
Act Together for a Greater Good
The idea of a unified youth setup started in 1995-96. The aim was simple: make sure that the number of domestic players in LaLiga will be increased, the transfer dependency on foreign players will be prevented, and the long-term national team success will be realized. As a matter of fact, achievements can be seen by looking at the results of the European Football Championship in 2008 and 2012, and the 2010 World Cup in South Africa.
For the first time in history, Spain won the World Cup and won 3 cups in a row in international tournaments.
Media and football enthusiasts called them as golden generation and they were amazed by the harmony displayed on the pitch.
The Spaniards were constantly transferring players to Europe like a football factory.
Each team had many youth talents in their squads, squads were mainly consisting of players who trained within the country.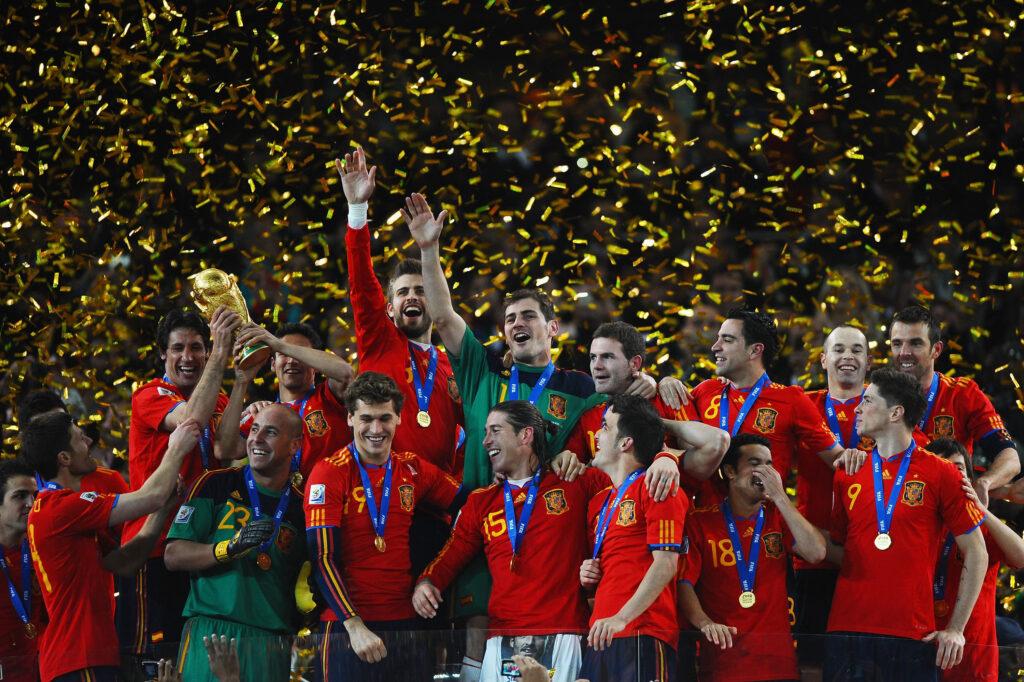 Spain team celebrate victory with the World Cup trophy during the 2010 FIFA World Cup Final (Source: Laurence Griffiths/Getty Images)
The methodology agreed here has not only focused on a player-based approach at the grassroots level, but also on the gradual development of all other aspects and personals of football. Each year, LaLiga holds the Academies Meeting, where club executives come together to share tips and ideas to advance their programs. By working in cooperation with the Royal Spanish Football Federation in the LaLiga Training Hub project, they have been transferring their know-how in the field of physical preparation, performance optimization, scouting, and legislation cost-free to the youth football clubs.
Project Global Grassroots
LaLiga Grassroots Initiative, whose concrete work we started to see in 2021, has now provided training to over 175,000 football players and 20,000 coaches in 38 countries on 5 continents. Despite the initiative defining its core as a player and their ultimate goal as their comprehensive education, they have five main areas of involvement to boost football globally:
• Sports Advice and Guidance
• Football Development
• Coach Training
• Clubs and Academies
• New Technologies
"At LaLiga Grassroots, we aim to promote and enhance LaLiga's value and image through the development of our own sporting and training projects while upholding the culture of Spanish football as well as passing on LaLiga's own know-how and methodologies." – Oscar Mayo, LaLiga's CEO
This structure can be also named an international scouting network, a cultural center, that will also give the Spanish Ecole a chance to reintroduce itself to the world.
In 2022, they announced the establishment the ESC Madrid facility, the international sports and academic benchmark for young athletes. The door of this facility will be opened to many promising candidates from all over the world, and it will provide the opportunity to live and learn in Spain. The most attractive aspect of this project is that, in addition to football education, candidates will be encouraged to continue their academic development, and alternative career paths will be sustained for those who will not continue their sports careers.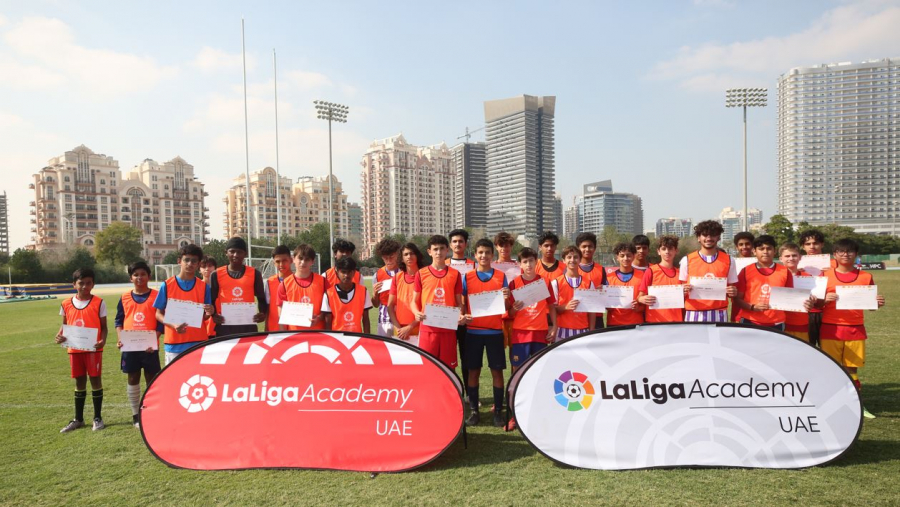 La Liga Academy UAE (Source: LaLiga.es)
"You need to know the needs that each individual youngster has and know their background, situations, and doubts. We're aware that only a very small percentage will arrive at the top level of sport, so we have a responsibility to care for those who won't make it to professional football. We have the responsibility to develop people, not just footballers." – Miquel Toni Gelabert, RCD Mallorca Academy Director
LaLiga Camps are one of the big commitments for 2022 within LaLiga Grassroots, to promote grassroots football at a global level. The camps, with day or overnight options, will last between 1 and 2 weeks, and aim to bring to all levels of players, both male and female, between the ages of 8 and 17, and will include some of the resources and common elements that make the youth academies of LaLiga clubs a world standard: LaLiga currently ranks first among European competitions in terms of minutes played (17.5%) by its youth players according to the latest study published by the CIES Football Observatory in January 2022 ( The LaLiga Newsletter, dated on 01.03.2022).
Competition is a must element for the Spanish system and it is important to instill a sense of competition in the player at an early age. For this reason, the league structure in the under-19 and under-16 leagues includes dynamics such as relegation and promotion. In order to ensure that players who are accepted to the LaLiga Grassroots program are not deprived of this, a system applied where they can compete with these clubs in tournaments awaits them in Madrid.
Today, more players from Kuwait, Indonesia, and the United Arab Emirates, who have trained in the LaLiga academy in their country are on the radar of LaLiga clubs.
In a country where every club's academy has been praised for a long time, we might now be about to see a different "La Masia" example under the banner of LaLiga and who knows, efforts in the present may shape the way of future of football again.
by Onur Dalgıç